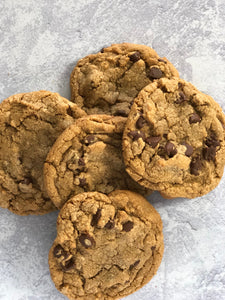 Delicious!!
I'm a repeat customer of Danni's Delights! Those chocolate chips cookies are the stuff sweet dreams are made of!! Delicious!!
Great cookies!
I ordered myself some of those chocolate chip cookies, a dozen, and they were absolutely great! They were big, chewy and chunky, just the way I like them, especially with a nice tall glass of cold milk! Thank you so much for the cookies, they were awesome!
Delicious
I ordered these cookies for my grandma's birthday party and every single one was gone. DELICIOUS!